RSB I-JOIST
A High-performance advantage.
I-Joist Basics
I-joists are strong, lightweight, "I" shaped engineered wood structural members that meet demanding performance standards. I-joists are comprised of top and bottom flanges, which resist bending, united with webs, which provide outstanding shear resistance. The flange material is typically laminated veneer lumber (LVL) or solid sawn lumber, and the web is made with plywood or OSB. The robust combination of structural characteristics results in a versatile, economical framing member that is easy to install in residential and light commercial projects
Patio enclosure
I-Beams for permanent structures and best suited for flat/lean-to roof structure, patio enclosure, heavy duty floor structure, flat roof deck, passive solar roof structure, etc.
Tapered I-Joists with parallel fascia girder on a
private house near Randburg South Africa.
In spite of relatively small rafter spans, the girder
members were deep and had long spans
which also formed a fascia
| Engineering: | |
| --- | --- |
| Max Rafter Span | 4230mm |
| Max Girder Span | 5800mm |
| Rafter Profile | Tapered (1.5°) |
| Rafter c/c | 813mm |
| Deck | 18mm shutterply |
| Skylights | 4 |
| Total Area | 32m² |
| Applied Load | .7398 kN/m |
 Heavy Duty Floor Structure

This was part of a refurbishment project for Planet
Fitness at their Durbanville facility in the Cape
Province. Both alternative methods of construction
proved to be considerably more expensive. Timber
I-Joists were specified and the cost saving was 43%.
The structure was installed by the main contractor who
used 2 carpenters and 2 labourers who completed the
project in 3 weeks. There were 21000 chipboard screws
and 355 hexagon bolts. The structure spanned over
change rooms which meant that continuous moisture
had to be taken into account. The I-Joists were pressure
treated TBTN-p followed by 3 coats Rystix Timbercare.
| Engineering: | |
| --- | --- |
| Max Rafter Span | 7500mm |
| Max Girder Span | 7500mm |
| Diaphragm Deck | 21mm Shutterply |
| Applied Load | 6.5kN/m² |
Tyger Valley College Pretoria.

This project was part of an extension
to existing facilities. The roof structure had initially
been specified as steel I sections which were heavy
and considerably more expensive than timber I-Joists.
The I-Joists were delivered in single lengths and a
crew of only 1 carpenter and 3 labourers installed
roughly 3000m² of roof. The exposed rafter
cantilevers were treated with 3 coats Rystix
Timbercare exterior deep penetrating sealer.
| Engineering: | |
| --- | --- |
| Max Rafter Span | 9000mm |
| Rafter c/c: | 1250mm |
| Roof Pitch | 15° |
| Total Rafter Length | 11000mm |
| Roof Cover: | Steel Sheets |
| Applied Load: | .7375 kN/m |
Flat Roof Deck

Private Dwelling Plettenburg Bay.
The original specification for this roof was cast in-
situ concrete. The Project Manager discovered
tapered I-Joists and the specification changed. This
was a very challenging roof profile, but this tapered
deck saved the client 33% in cost and reduced the
build time by 3 weeks. There were 36 different
lengths of tapered I-Joists
Supported on a steel skeletal frame.
| Engineering: | |
| --- | --- |
| Max Rafter Span | 5200mm |
| I-Joist c/c: | 813mm |
| Skylights | 2 |
| Applied Load | .7398kN/m |
Passive Solar Roof Structure
Private House Ou Baai near George South Africa. This
building was designed by an architect who is
passionate about alternative building technology. The
near zero carbon footprint of timber I-Joists
complimented the ethics and was more economical
than laminated beams. The roof consisted of 50x76
purlins on top of the rafters and 21mm shutterply on
top of the purlins. The roof covering was Tegola felt
shingles, an ideal specification for coastal applications.
All exposed timber was treated with 3 coats Rystix
Timbercare.
| Engineering: | |
| --- | --- |
| Max Rafter Span | 8000mm |
| I-Joist c/c: | 1200mm |
| Roof Pitch | 15° |
| Purlin c/c | 610mm |
| Applied Roof Load | .9720 kN/m |
Roof Level Studio
Private Dwelling Northcliff Johannesburg.
The brief was to create a studio on top of
the existing building which did not have
adequate foundations for conventional
construction methods so had to be
lightweight. There were to be no internal
walls and the client wanted a vaulted ceiling.
This structure consists of laminated portal
Frames, I-Joist rafters and I-Joist floor members. The
existing ceilings were left in-situ and screwed
to the bottom flanges of the I-Joists.
| Engineering: | |
| --- | --- |
| Roof Span | 8000mm |
| Portal c/c | 3300mm |
| Max Floor Span | 4800mm |
| Deck Cantilever | 1500mm |
| Applied Load Roof | .9804 kN/m |
| Applied Load Floor | .9467 kN/m |
I-Joist BasicTerminology
The principle behind I-Joist technology is about putting strength where it is needed at the lowest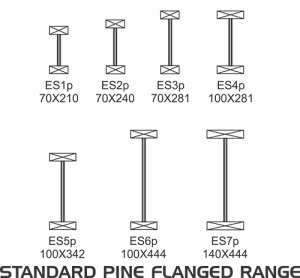 possible cost. Hence the top and bottom flanges do most of the work, whilst the web keeps the flanges apart and takes care of shear forces.
The range of I-Joists we offer has been developed specifically for use on the African continent. Low level on site skills are required whilst at the same time the product is supported by engineering services on an internationally accepted level.
The maximum depth of the web is determined by a formulation that we have developed and which prevents the webs from buckling under heavy loading conditions. 
I-BEAMS BASIC TERMINOLOGY
I-Joist is a cost effective, lightweight beam used in residential and commercial construction.
I-Joist is light, easy to install and available in a wide range of sizes, it also gives you more options for designing economical joist layouts.